Here's 12 Cat GIFs for the Holidays
The holidays are coming up, which means that it's time to add to your ugly sweaters and socks collection! And of course, don't forget cat GIFs! Here's 12 of our favorite holiday-themed cat GIFs.
1. This easily amused cat in a hat
2. This not so amused cat in a hat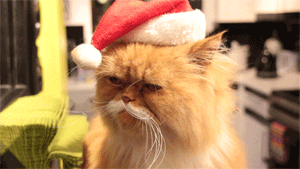 3. This cat who's having none of their s#!@
4. This cat trying out for the sleigh team
5. And this cat doing his best Santa impression
6. The best present ever
7. It's what we all want!
8. This cat rocking that ugly sweater
9. Christmas and cats just go together
10. Ring the bell!
11. But don't get burnt!
12. Stay cool, cats!